Last month, I had the unique opportunity to chat with Dr. Kelechi R. Okoroha, Assistant Professor of Orthopaedic Surgery at Wayne State University and Orthopedic Sports Medicine Surgeon at Henry Ford Health System about his recent study detailing a non-opioid multimodal protocol consisting of pre-operative analgesics, intraoperative local infiltration analgesia, and postoperative pain regimen published in Arthroscopy: The Journal of Arthroscopic and Related Surgery. Our conversation is summarized below:
---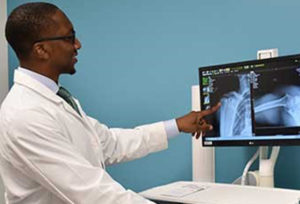 Tell us about yourself—what is your background and what sparked your interest in acute pain management?
I went to Xavier University for my undergraduate degree, Howard University for Medical School, and then completed an orthopaedic surgical residency at Henry Ford. After that, I went to Rush University and completed a Sports Medicine Fellowship. I became interested in Sports Medicine as it related to my prior athletic career playing on the basketball team, and interested in acute pain management because it is something that is always at the forefront of my patients' minds after surgery. Many patients think their pain level should be zero, which leads them to take more opioids than they actually need.
Can you tell us a bit about your hospital?
The Henry Ford Health System is comprised of hospitals, medical centers and one of the nation's largest group practices, the Henry Ford Medical Group, which includes more than 1,200 physicians practicing in over 40 specialties. Henry Ford Hospital, the first hospital of the system is in Detroit is recognized for clinical excellence in cardiology, cardiovascular surgery, neurology and neurosurgery, orthopaedics, sports medicine, multi-organ transplants and cancer treatment. There are approximately 800-900 beds at the main hospital.
What patient populations do you serve?
We serve a variety of patient populations, including a large African American patient population.
What inspired you to create a non-opioid perioperative pain management experience for patients?
With our nation's ongoing opioid epidemic, everyone must do their part to decrease the opioid abundance. Orthopaedics is a specialty associated with some pretty painful surgeries and we wanted to understand how best to manage our patients' pain without the need for high volumes of opioids.
What positive downstream affects have you seen since you implemented your program?
After implementing a non-opioid multimodal protocol, our patients are doing much better postoperatively, which is proactively changing our program by decreasing the amount of opioids we prescribe and that are ultimately in our communities. We rarely use opioids after hip, knee, shoulder, or elbow surgery in most of our patients.
What are the next steps or future directions for your practice?
Currently, we have a several randomized clinical trials underway in various orthopaedic sports medicine procedures that assess pain management with a multimodal approach. In the near future, it is our goal to expand our randomized clinical trials into more invasive surgeries and evaluate pain protocols with low-to-no opioids.
---
To learn more about Dr. Okoroha and the great work he is doing at Henry Ford Hospital, please check out his website: https://www.kelechiokorohamd.com/