By: Kali Fields, Director, Grassroots Advocacy
---
In a time when there is extreme uncertainty, a record number of opioid-related deaths, and a seemingly worse start to the new year than anyone could expect, it is easy to feel lost with little control. Historically, during times like these we come together as a society and forge a path forward. And, more often than not, we look to the next generation for support.
Volunteers for Youth is a non-profit organization serving our country's most vulnerable in Rogers County, Oklahoma. The organization was established in 1998 to offer services to at risk children, kids needing a safe place to go after school, individuals who have committed a first offense, or those who are experimenting with alcohol and prescription drugs. Volunteers for Youth offers programs, such as the Drug Free Communities (DFC) Support Project which works to reduce substance abuse among our youth. The group tailors its approach ensuring that each child receives love and attention.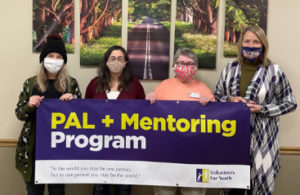 The organization is expanding its mentorship program greatly this year. In addition to schools, they will now take referrals from social service organizations, courts, and community groups. Currently, its Positive Adult Leadership (PAL) mentoring program pairs children referred to them by a school system with a mentor to serve as a resource and support system. With a new grant, the program is expanding and launching the PAL+ Mentoring program to focus on children ages 6 to 18 who have been impacted by the opioid epidemic. Mentors will meet the children wherever they are, and the goal is to have mentors with similar experiences to the children. The program will also incorporate an emotional support dog, PawLea, who will rotate between two elementary schools to interact with students and visit those who have been truant – encouraging them to come back to school with a positive attitude. The PAL+ Mentoring program hopes to emphasize shared experiences and is always looking for passionate mentors of any background to help the children of Rogers County.
Increasing family engagement is another aspect of ensuring the children are supported. Volunteers for Youth plans family activities and dinners as way to foster an open and honest relationship with the child, their family member(s), and mentor.
While addiction can impact anyone, prevention methods used by Volunteers for Youth go a long way in curbing opioid misuse in communities. We are proud to be working with Volunteer for Youth to prevent addiction before it starts. If you are interested in joining our efforts, please visit our action center here.
In addition to the services described above, Volunteers for Youth is able to disseminate Deterra disposal pouches to members of their Rogers County community. If you are in the area and in need of safe drug disposal, please reach out to darlene@volunteersforyouth.com or utilize a safe disposal near you*. One of the best ways to keep opioids safely out of the reach of children, and/or anyone for which they are not intended, is to store them in a secure area such as a medical safe or medical lock box, which Volunteers for Youth can also provide.
To learn more about Volunteers for Youth, please check out their website here: https://volunteersforyouth.com/
---
*Disposal locations near you:
Rogers County Sheriff's office and Police Departments in Claremore, Catoosa, Chelsea, Inola, and Oologah
Rogers State University Campus Police office